home > san juan island general info
Have a question about your visit to the San Juan Islands? Ask it here!
Ask your question about the San Juan Islands and receive fast answers at Northwest Answers.... you don't even need to register to ask! Northwest Answers makes it easy to ask and you'll receive real helpful answers from real people. Here is a screenshot of what a good answer looks like: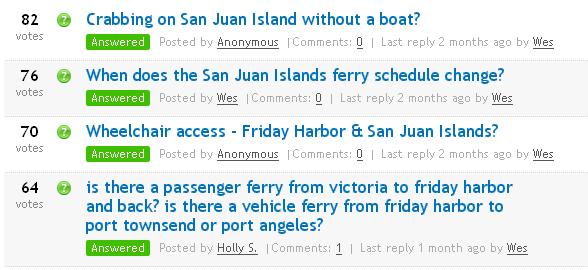 Pictured above: Some recent questions asked on Northwest Answers. Click Here to ask your question
Registration is not required to post a question
Quick and helpful answers
Works with Desktop and Mobile devices.
Good luck and enjoy your trip to the San Juan Islands!
Browse more...
Lopez Island Activities
Lopez Island Places of Interest
Lopez Island General Info
Orcas Island Activities
Orcas Island Places of Interest
Orcas Island General Info
San Juan Island Activities
San Juan Island Places of Interest
San Juan Island General Info
Accommodations
List Your Business on TheSanJuans.com