home > lopez island activities > events & entertainment on lopez island
Tour De Lopez 2014 Bike Ride
2014 update: The Tour de Lopez 2014 will be held on in Saturday April 26th, 2014. Check-in at Village Park or Odlin County Park. Entry rates are as follows: $45 Adults, $25 youth, and $115 family. Check out the below video to envision what you're trip can be like!
A popular noncompetitive bike ride and road tour through the scenic landscape of Lopez Island is held annually during the month of April and is usually sold out with approximately 850 riders visiting Lopez Island to participate. This three-day event is approximately $45 for adults and $25 for children or $115 per family. Included in this price is lunch and snacks and barbecues. Preregistration is recommended.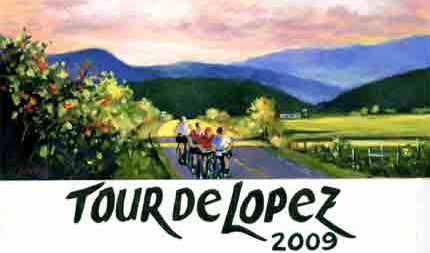 View Lopez Island Accommodations here...
Visit the Lopez Island Chamber of Commerce for registration and details.
Tour de Lopez photo gallery...
Browse more...
Recreational Activities on Lopez Island
Health, Spa, and Relaxation on Lopez Island
Historical Activities on Lopez Island
Workshops & Educational on Lopez Island
Events & Entertainment on Lopez Island
Youth and Childrens Activities on Lopez Island