home > lopez island activities > recreational activities on lopez island
Bicycling On Lopez Island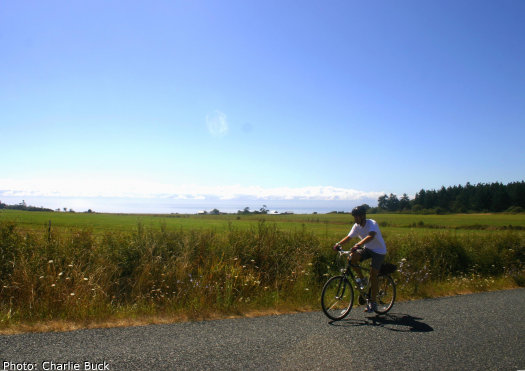 Faq's About Bicycling on Lopez Island:
Question: Why is Lopez Island good for bicyclists?
Answer: Lopez Island is the flattest of all the San Juan's providing ideal rides for bicyclists.

Question: What else does Lopez island offer bicyclists that the other islands don't?
Answer: Lopez is the least populated of all the major San Juan islands and offers less crowded roads which makes for a very pleasant ride.
| | |
| --- | --- |
| | Lopez Island is a slow place, a friendly place where residents in old cars and trucks wave at strangers, a place with intriguing parks, bays, spits and other spots to stop and explore. |
Editors Choice:
Lopez Bicycle Works
The San Juan's oldest bicycle shop providing sales and rentals on Lopez Island.
Best Maps:
Click to view San Juan's Map
A map of the San Juan islands showing popular campgrounds and facilities.
Lopez Bicycle Works
This is a map of Lopez island providing a numbered key for a number of Lopez businesses and attractions.
Lopez Bicycling Reviews:
NW Outdoors
NW Outdoors provides a accurate description of Lopez island and what to expect when bicycling.
Safety Tips:
Wear a helmet
Head injuries account for 85% of all bicycle accident injuries
Obey all traffic signs
Ride single file and keep to the right
Ride in small groups widely spaced
Make stops on the straightaway rather than at the top of hills or curves
When stopping, move completely off the road to allow cars to pass safely
Make yourself visible with bright clothing and reflectors
Use lights for night riding
Be alert for dogs
Respect the rights of property owners
Most land and many local roads are privately owned.
Browse more...
Recreational Activities on Lopez Island
Health, Spa, and Relaxation on Lopez Island
Historical Activities on Lopez Island
Workshops & Educational on Lopez Island
Events & Entertainment on Lopez Island
Youth and Childrens Activities on Lopez Island