home > orcas island general info
Getting to the San Juan Islands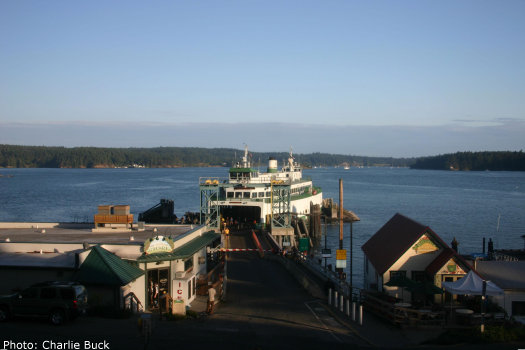 Driving to the San Juan Island's, See below for driving directions to the San Juan Island's from Seattle, Everett, Mount Vernon, Bellingham, and Vancouver B.C.The islands are served by the ferry terminal in Anacortes. So once you start to get close to Anacortes be sure to look out for "Ferry Terminal" sings. If you are not flying, or chartering a boat then chances are you are coming via Washington State Ferry. See below for further Washington State Ferry information.
Please Note:
Ferry traffic can be heavy in the summer months and it is strongly advised to get your car in line at least one hour ahead of your departure time. During peak times (weekends and weekdays between 10am and 5pm) you may want to arrive earlier as wait times can be double or triple. (Click here for ferry schedule)
Driving Directions and Mileage to Anacortes;
When nearing Anacortes follow the signs to the ferry terminal.
Seattle to Anacortes WA. 80.4 mi (about 1 hour 43 mins)
Everett to Anacortes WA 53.1 mi (about 1 hour 6 mins)
Mount Vernon to Anacortes WA 16.7 mi (about 31 mins)
Bellingham to Anacortes WA 41.3 mi (about 54 mins)
Vancouver B.C. to Anacortes WA 147 km (about 2 hours 1 min)
Shuttle Services:
If you choose to leave your car behind, you can leave it in a shuttle lot alongside Highway 20, just east of Anacortes and take a free shuttle to the ferry, or pay to park it in the terminal parking lot. For shuttle and parking information call 360.757.4433
The ferry terminal is also served by the Airporter Shuttle (from Sea-Tac to Anacortes Ferry terminal) 1-866-235-5247 and by bus (downtown Seattle to Anacortes Ferry terminal) Gray Line 800-426-7532.
There is bus service from Friday Harbor to SeaTac via Island Airporter, 360-378-7438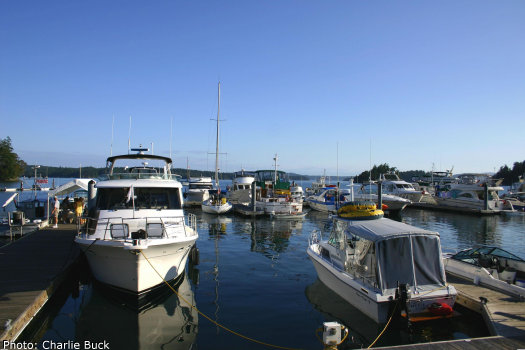 By Boat:
If you are traveling on a private vessel, The Port of Friday Harbor Marina has 500 slips and provides access to the Town of Friday Harbor, where one can find complete services for boaters. There is space available for 150 visiting boats ranging in size from dinghy's to 150 feet.
By Air:
Charter service between the islands and the destination of your choice is available from Island Air (360) 378-2376 and Rose Air 503-675-8834.
San Juan Airlines provides daily scheduled flights from Bellingham, Anacortes, British Columbia and Inter-island.
Kenmore Air flies float planes between Lake Union, in downtown Seattle, or nearby Lake Washington and Northwest Seaplanes flies out of Renton.
If you are traveling on a private plane, The Port of Friday Airport has a 3400 by 75 foot runway, 12,500 pound weight limit, and 45 spaces for guest aircraft.
Current Islands Weather:
Click here to view current San Juan Island weather
Click here to view current Lopez Island weather
Browse more...
Lopez Island Activities
Lopez Island Places of Interest
Lopez Island General Info
Orcas Island Activities
Orcas Island Places of Interest
Orcas Island General Info
San Juan Island Activities
San Juan Island Places of Interest
San Juan Island General Info
Accommodations
List Your Business on TheSanJuans.com