home > orcas island general info
Fishing Charters in the San Juan Islands & Gulf Islands 2016
Click on the links below to jump directly to specific fishing topics:
Hi, this is Captain Marty Mead with North Shore Charters in the San Juan Islands of Washington State specifically Orcas Island. We specialize in salmon and halibut fishing, and offer year around services. I have been in business for over 15 years in the San Juans and have over 30 years experience doing what I do. I cater to both beginners and pro anglers, and families with small kids. Realizing that there is a wide range of fishing techniques, I try to make my trips a educational experience. So I like to say we don't just catch you a fish, we teach you to catch.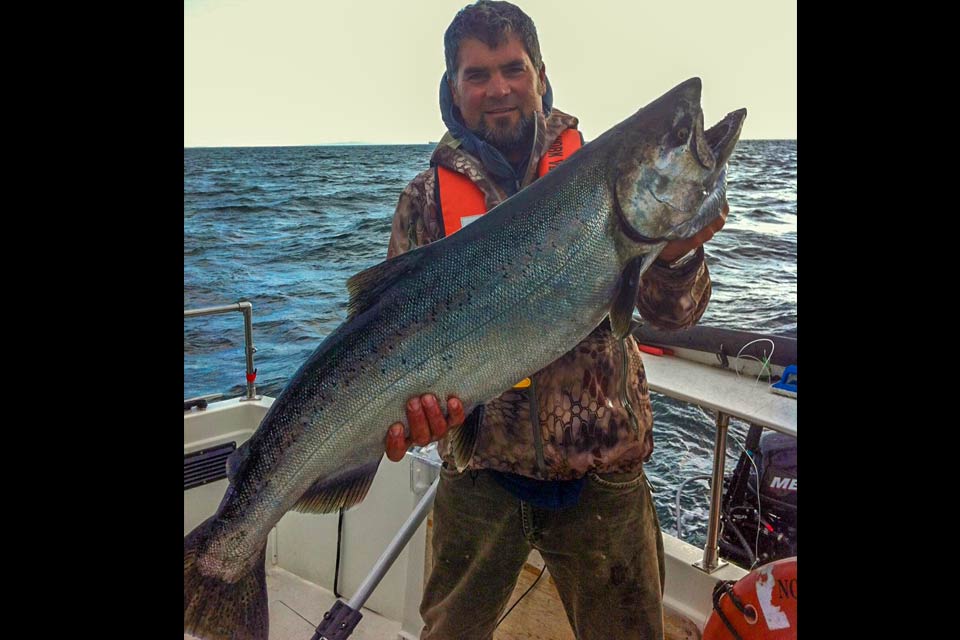 So having said that, I'm going to go through and give a brief overview of the seasons, and then talk about the other services North Shore Charters offers and touch on some of our frequently asked questions.
We have trips leaving from our home port of Deer Harbor Marina and Rosario Resort on Orcas Island, Friday Harbor or Roche Harbor on San Juan Island and from Fishermans Bay Lopez Island. We also offer wild life tours and are the only company offering day trips to Canadian destinations such as Victoria, Sydney, Vancouver or anywhere in the Canadian gulf islands. We also offer multi day and family adventure trips that allow you to combine any of the services we offer to suit whatever your vacation goals may be. So, if you're visiting the San Juan Islands, and you want to do some salmon or halibut fishing, or maybe take a wildlife tour, you can combine the two and make a day of it! Or fish one day and do a day trip to Victoria the next.
Starting with the fishing seasons. The first of December with the Friday Harbor Resurrection derby and usually running through early spring is winter Chinook or Blackmouth Salmon. The San Juans offer an excellent Blackmouth fishery and is likely the most popular fishery with the locals. Unfortunately, it's in the wintertime when the weather's not the best, so we don't usually see a lot of tourists coming up looking to fish for blackmouth. Then May first opens Pacific Halibut and Ling Cod. Halibut runs through the end of May. Typically, the way the state does halibut fishing is you're only allowed to fish for halibut on Thursday, Friday, and Saturday. So, we only get twelve days to fish for halibut in Washington State. So being really short season, so those halibut days get booked up really fast. The cool thing is that the halibut have really been coming in strong in recent years. For the last ten years it's been rather difficult to go out there and catch halibut in the San Juans, but they're making a strong comeback. Each year we're seeing progressively more catches. That fishery goes to the end of May and Ling Cod through June 15th. Fishing for the Jumbo Spot Prawns is also open on limited days throughout the season.
Then, Ling Cod continues on through, June 15th. Typically on a halibut day well target the Halibut first then try for the Ling on the way in. Then June 15th through the end of the month, there's no big game fishing open, however, there is plenty of other smaller species of bottom fish to catch and can be really fun for families with kids. In Washington State Rockfish is closed. All species of Rockfish were closed a couple of years ago, due to their severe decline in numbers. So were not allowed to target or retain them.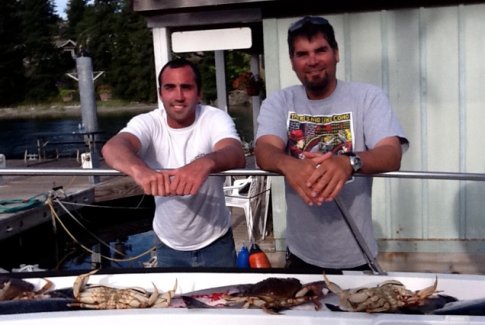 On July 1st most other species of Salmon open up in the San Juan islands. Chinook or King Salmon, Pink also known as Humpies, and Red which are Sockeye Salmon, and Silvers also called Coho salmon. Usually mid month Dungeness crabbing is also available. Catch limits and regulations change from season to season and can be rather complicated so again be sure you have a copy of the Washington Sate Fishing regs with you for reference, because you really don't want to get caught with an illegal fish. If it's a no-catch fish then you're not even allowed to take it out of the water. You have to be very careful with it, bring it to the boat, and unhook while it is still in the water. The salmon season generally goes through late fall.
So to recap, the fish runs in the San Juan Islands go December, Blackmouth, May Halibut and Ling Cod, July King, Sockeye, Coho, and Humpys. In the San Juan Islands the Pink Salmon alternate years with the Sockeye. Which means on odd years such as 2011 the majority of fish running through the San Juans heading for their native rivers were Pinks or Humpies whereas in 2012 it will be Sockeye Salmon.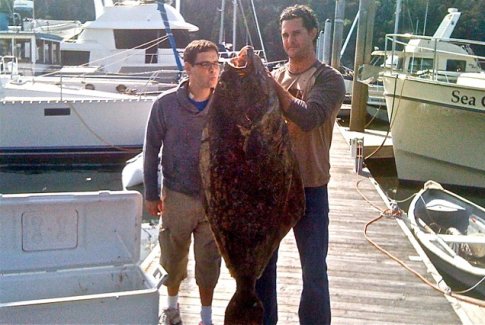 Halibut season is generally open on the Canadian side of the border starting in the early part of the year and running through fall. We do offer Halibut fishing trips to BC waters during these times. licenses are available online either on the DOF website or through www.OrcasIslandAdventures.com you do not need a passport as long as you do not anchor, land or contact another vessel. However anchoring is the typical way to catch Halibut so having your passport may pay off. If going on your own, I strongly recommend acquiring a copy of the BC fishing Regs before heading out on your trip

You will need valid Washington fishing license and Salmon, halibut, and or Dungeness Crab catch card. if it's a fishing trip, which you can get online, or at any of the local sporting good stores. If you are driving to the San Juan Islands and your not late for the ferry you could stop in Burlington at the Holiday Market immediately on the left on Highway 20 just as you exit the I5. Or you can wait until you get out to your respective island. If you're going to San Juan Island, you can get a one-day permit at King's Sports, which is downtown at Friday harbor. If you're coming out to Orcas Island you can get that permit at East Sound Sporting Goods, which is downtown Eastsound, or on Lopez, the Island Marine Center ( IMC), which is right on the water.
What is the best time to fish, well It's heavily based on the tide. We will try to do an early morning trip, I like to have lines in the water 30 min before daylight. and an afternoon trip, tide permitting.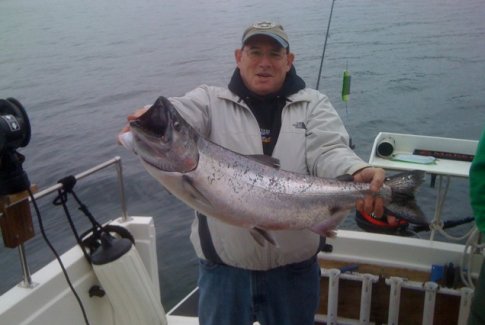 We can take up to 6 people per trip. prices vary on how many people and what we are fishing for and can be found on our website www.OrcasIslandAdventures.com
I can process and bag your catch in whatever way you like however we don't have the means to freeze it for you. Depending on where you're staying at a hotel or resort, they may have the means to freeze it for you, and then you can just take it to FedEx or UPS and send it out.
We also offer lodging packages and discounts available on Orcas Island, San Juan or Lopez through our website www.OrcasIslandAdventures.com If your so inclined you may be able to take advantage of one of these opportunities to save some money on your vacation.
If Seasickness is a concern. My policy is that If I feel the weather is bad enough to make people sick or nervous about being out on the water, then I'll cancel the trip. It's not my intention to get anybody out there and make them sick or scared. Really rough water doesn't make for a good time.
Another very unique service we offer is day trips or one way transportation between the San Juan Islands and Victoria BC Sydney, Vancouver or any of the Canadian Gulf Islands such as Ganges on Saltspring, and Poets Cove on Pender. As far as I know we are the only service offering day trips where you can depart say friday Harbor in the morning spend the entire day touring Victoria or Gangese and return to the San Juans that same evening. otherwise the Washington State ferries offers a mid day departure from Friday Harbor to Sydney on Vancouver Island. However this option arrives Sydney mid day and then it takes 45 min to one hour to drive to Victoria arriving you there in the late afternoon, Then on the return the ferry leaves Sydney in the morning so this really only gives you the evening to enjoy a quick trip to Victoria. Another very cool day trip to take is to visit the Saturday farmers Market on Saltspring Island. It is the largest artisan fair in all of the US or Canadian Islands. you can discover more information about the market on our website www.OrcasIslandAdventures.com.
Again, this is Captain Marty, with North Shore Charters. all of the information discussed here and much more can be found on www.OrcasIslandAdventures.com there are lots of links to a great number of resources throughout the San Juan Islands as well as the Canadian Gulf Islands. Fell free to contact me anytime with any questions you may have.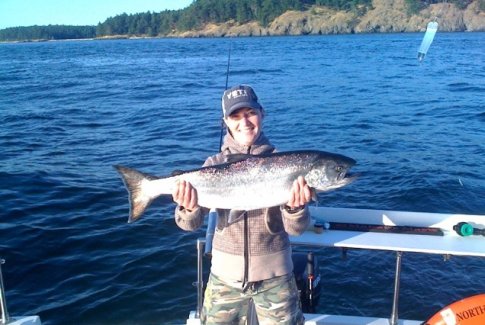 Thanks to Marty for doing this interview, please contact SanJuanSites.com to have an article and youtube video done for your business.
Browse more...
Lopez Island Activities
Lopez Island Places of Interest
Lopez Island General Info
Orcas Island Activities
Orcas Island Places of Interest
Orcas Island General Info
San Juan Island Activities
San Juan Island Places of Interest
San Juan Island General Info
Accommodations
List Your Business on TheSanJuans.com