Lime Kiln State Park, commonly known as Whale Watch Park offers dramatic west side views and trails lined with pacific madrone trees and picnic tables close to the waters edge.
Lime Kiln Point State Park is the place on the west side of San Juan Island ( Washington State ) to watch sunsets and hopefully spot some of the 80-plus Orcas who make the waters of Haro Strait their summer home.
Directions from downtown Friday Harbor: Go East on Spring street ( the town's main drag ) away from the water and follow the road out of town. Go left on Douglas road and follow it until it turns into Bailer Hill road... After you go up and over Bailer hill you will pass Wold Road on your right ( take that road to see the lavender fields ) ..... Continue on Bailer hill road and you will see the ocean on your left. Follow it along the coast until you reach Lime Kiln State Park on your left. Parking and restrooms and even a gift shop ( with little whale trinkets ) are there for your convenience.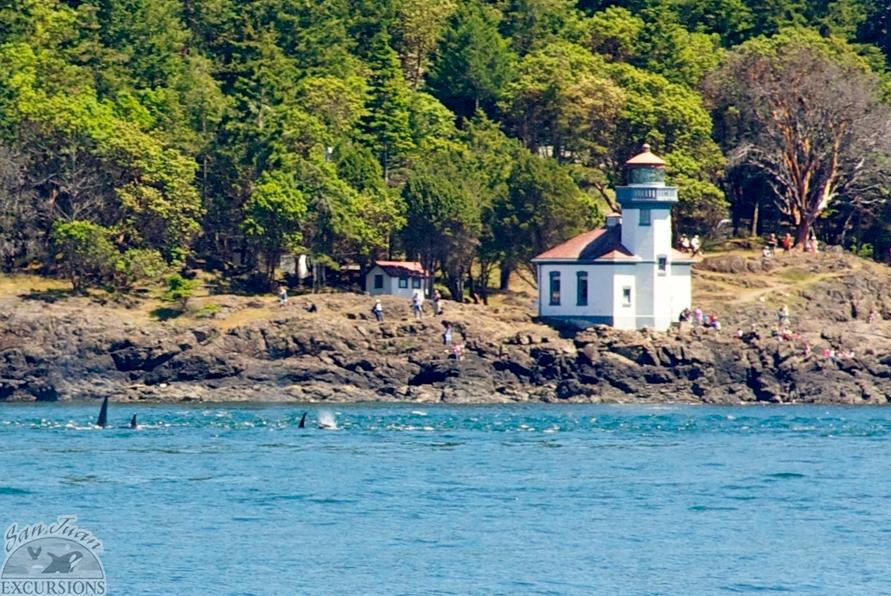 Visitors to Lime Kiln State Park observe orca whales ( actually orcas are the largest of the dolphin species ) pass by. Lime Kiln State Park, San Juan Island. Photo: San Juan Excursions.
A walking path leads you to the Lime Kiln Lighthouse where you can check a reader board to see when the whales last past by. There is also information about the orcas, seals and porpoise available so that you can easily distinguish a porpoise from an orca whale.
There is usually a naturalist nearby to answer questions about wildlife. While you are enjoying this beautiful area, you may see kayakers pass by or sail boats off in the distance. This area is a motor boat exclusion zone so motor boats must stay at least a half mile off shore. Dead Man's Cove lies just around the corner to the south and San Juan County Park lies to the north.
Lime Kiln State Park Activities:
Hiking/Dogs allowed on a leash
Whale watching
Sunset watching
Diving
Birdwatching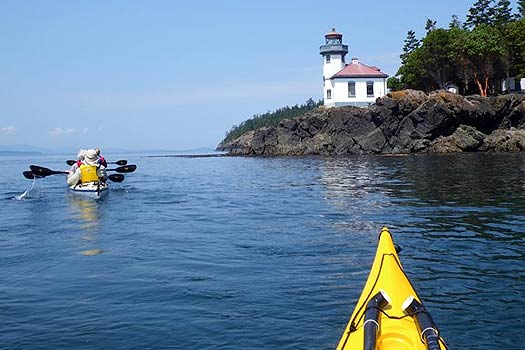 A sea kayaking tour paddles past the Lime Kiln Point Lighthouse, a.k.a. Whale Watch Park. Lime Kiln State Park, San Juan Island. Photo: Jason's kayaking blog.
More info such as updated park hours and fees can be found on the State Parks Lime Kiln Point website. Kids and adults might also enjoy a visit to the Whale Museum in Friday Harbor.
Background photo courtesy of Jason's kayaking blog.
Browse more...
Parks & Recreational Areas
Lakes and Beaches
Historical Places
Museums & Gardens
View Points
Romantic Places
Places for Young Adults & Children
Entertainment Venues
Towns on San Juan Island