home > san juan island places of interest > romantic places
Mount Young
Mount Young, with its expansive marine views over the northwest side of San Juan Island easily makes our top 10 viewpoints in the San Juan Islands list. It almost made our top 10 hikes in the San Juan Islands list but the hike is only 10 minutes long! Bring along your camera for the views!

Great Places to Picnic in the San Juan Islands
A list of the best places to picnic on Orcas Island, Lopez Island, and San Juan Island.

View sunsets and whales from Lime Kiln State park
Lime Kiln Point is a 36-acre day-use park set on the west side of San Juan Island. The park is considered one of the best places in the world to view whales from a land-based facility.
Jakle's Lagoon, San Juan Island
Just opposite of South Beach, on San Juan Island is Jakle's Lagoon. Park here for access to the lagoon itself, self-guided natural tours on Mount Finlayson, Fourth of July beach, and views of Griffin Bay.
South Beach
South Beach is a 2 miles long stretch of pebble beach where you can still get a good chunk of beach all to yourself, even in the height of summer.
Dead Man's Bay/Cove
Don't let the grisly history of Dead Man's Bay prevent you from enjoying this treasure of San Juan Island's
West side
.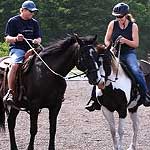 Go horseback riding
With just a little bit of instruction and a little bit more courage you and your significant other could be riding through forests and pastures on horseback.
Roche Harbor Resort and Marina
Roche Harbor Village and Marina on San Juan Island, Washington offers a taste of
the past with our historical buildings, gardens, ambiance and quaint harbor.
San Juan Island Vineyards
A memorable wine-tasting destination, San Juan Vineyards, is our island's only producing vineyard and winery.
Dining On San Juan Island
Browse dining opportunities on San Juan Island, in Friday Harbor, out of town, and Roche Harbor.

Ask a question about visiting the San Juan Islands
A place where you can easily post your questions about visiting the San Juan Islands.