home > san juan island places of interest > museums & gardens
San Juan Island Historical Museum
Take a step back in time and experience island life as it was over a century ago through our historic structures, unique exhibits and living history. The San Juan Historical Society and Museum…preserving the history of Friday Harbor and San Juan Island since 1961.

Great Places to Picnic in the San Juan Islands
A list of the best places to picnic on Orcas Island, Lopez Island, and San Juan Island.
Roche Harbor Resort and Marina
Roche Harbor Village and Marina on San Juan Island, Washington offers a taste of
the past with our historical buildings, gardens, ambiance and quaint harbor.
View the Formal Garden's at English Camp
Originally planted by the Royal British Marines the Formal Garden is a beloved feature of San Juan Island National Historical Park.
Roche Harbor Formal Gardens
Stroll through borders of flowers and shrubs, and arbors of climbing roses and clematis that have been lovingly planted and tended by our professional gardeners.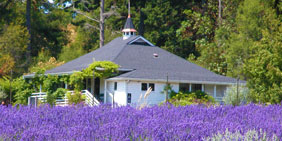 Pelindaba Lavender Farm on San Juan Island
Pelindaba Lavender is a premier grower of lavender plants, distiller of lavender essential oils and handcrafter of lavender-based products.
San Juan Island Whale Museum
You'll find a fascinating collection of exhibits, artwork, models and artifacts, including real whale skeletons and a family tree of the resident orcas.

Ask a question about visiting the San Juan Islands
A place where you can easily post your questions about visiting the San Juan Islands.