home > san juan island places of interest > parks & recreational areas
Jakle's Lagoon, San Juan Island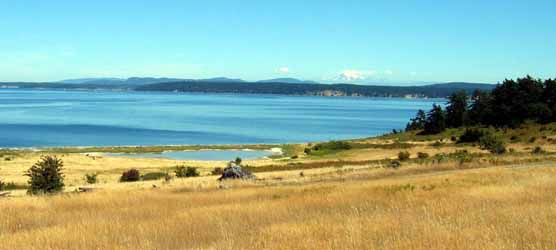 Jackle's Lagoon: Photo Mike Vouri
Jakle's Lagoon is located just south of the Fourth of July beach on Cattle Point on San Juan Island. The lagoon is part of the San Juan Island National Historic Park. Presumably it is named after the the first Cattle Point Lighthouse caretaker George Jakle who was a soldier stationed at American camp.
The lagoon is located near these other attractions: American Camp, South Beach, Mount Finlayson, Fourth of July Beach, Cattle Point Lighthouse, Grandmas Cove, and Eagle Cove.
At this time in 1888 to lighthouse was not a lighthouse it was just a simple brass lens lantern on post. A lighthouse tender would resupply George with 5 gallon containers of kerosene at regular intervals to keep the lantern burning. The dropping point for the kerosene was a sheltered area in Griffin Bay... it is presumed that this was the Fourth of July beach and the lagoon that came to be known as Jakle's Lagoon.
One of the three lagoons on Griffin Bay. Photo David Curl
Today Jakle's Lagoon is a popular spot for locals and visitors alike. There is a small parking lot which makes it a convenient place to start exploring the lagoon itself, Mount Finlayson, and Fourth of July beach.
Make sure to print out this self-guided nature tour that takes you on a beautiful and educational hike through the prairie and forest. The trail is about 1 mile in length and will take approximately 1 hour to complete. Bring along some water, stay on the trails, don't pick any flowers, and make sure to pack out your trash.
Driving directions to Jakle's Lagoon: From downtown Friday Harbor head west on Spring Street and take a left onto Mullis Road. This road eventually turns into cattle point Road. Follow Cattle Point Road past American camp. You will see Fourth of July Beach on your left than South Beach on your right. The turnoff to Jakle's Lagoon is just after the South Beach turn off on your left hand side.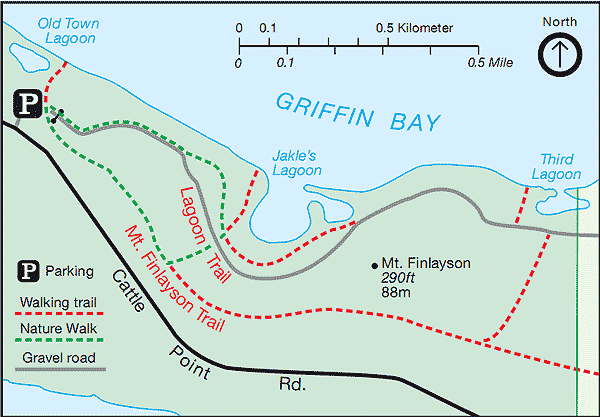 Browse more...
Parks & Recreational Areas
Lakes and Beaches
Historical Places
Museums & Gardens
View Points
Romantic Places
Places for Young Adults & Children
Entertainment Venues
Towns on San Juan Island