home > san juan island places of interest > parks & recreational areas
Fourth of July Beach
Fourth of July beach is a small picnic area with restrooms and a parking lot approximately 7 miles from the town of Friday Harbor. It is less popular than nearby South Beach and much quieter. Park your car and then hike along the forested trail. Once you reach the clearing at the beach, you can hop from log to log or walk along the pebbled beach.
If you walk far enough, you will eventually reach Jackals Lagoon. The view from Fourth of July Beach is northeastern. From here you can see Griffen Bay, Lopez Island, and Jackson's Beach beyond Dinner Island.
Fires are permitted on the beach below the tide line and there is a secluded picnic area and porta potty style ( stinky but a lifesaver if in dire need ) restroom.
Try to walk the "Old Town Lagoon Beach Walk" by walking south along the shoreline passed the saltwater lagoon. There are no vestiges remaining of the original San Juan Village. This village was the San Juan Islands first non-Native American community. The village burned down in the early 1890s and was abandoned for the new town of Friday Harbour. Could the village have burned down after an out of control 4th of July celebration? More information on 4th of July in the San Juan Islands.
Fourth of July Beach is a part of the San Juan Island National Historical Park and pets must be leashed within park boundaries. Any archaeological or natural features or ruins must be left undisturbed. Swimming is not advised on Fourth of July Beach because of strong currents.
The beach is about 7 miles from the town of Friday Harbor and close to nearby attractions such as the South Beach, American Camp, Mount Finlayson, Cattle Point, Eagle Cove, and Granny's Cove.
To reach Fourth of July Beach from Friday Harbor head east up Spring Street out of town and take a left on to Mullis Road. Mullis road takes you by the airport on your right and eventually turns into Cattle Point Road. The turn off to Fourth of July Beach will be on your left hand side and there are signs marking the turnoff. If you reach South Beach you have gone too far.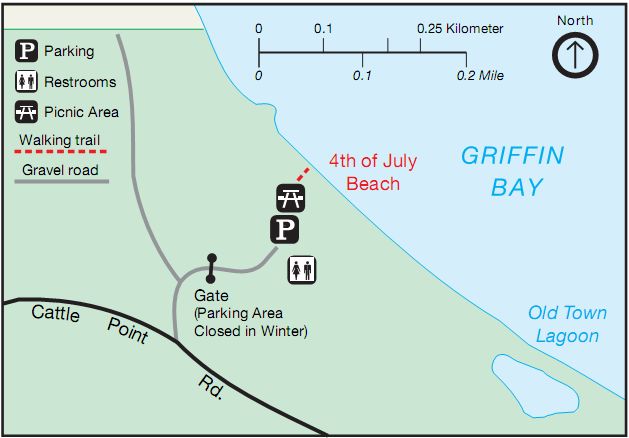 If you continue on Cattle Point Road past Fourth of July Beach you can also check out South Beach, the cattle point lighthouse, and hike Mount Finlayson.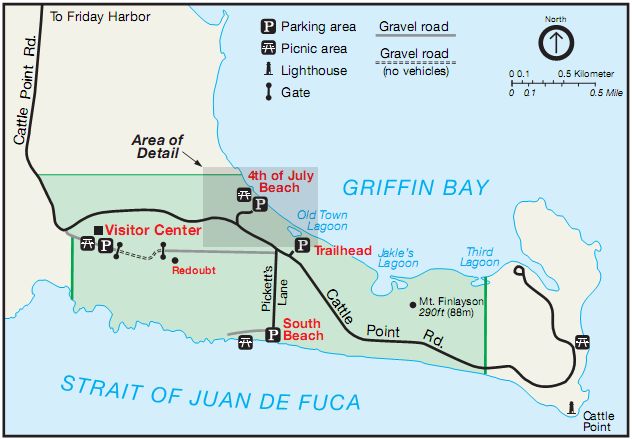 Browse more...
Parks & Recreational Areas
Lakes and Beaches
Historical Places
Museums & Gardens
View Points
Romantic Places
Places for Young Adults & Children
Entertainment Venues
Towns on San Juan Island