Renowned as the number one sea kayaking tour destination in the Pacific Northwest, the San Juan Islands offer an experience to enjoy abundant marine life, protected waterways and beautiful scenery. Leave your worries at home and let a tour group do all the work for you. Enjoy the area with a guide leading you along the best routes, giving you information about the area rich in natural history and making sure that your day on the water is perfect.
Although orca whales can be seen in the islands year-round your best chance at seeing one is during the summer months. Photo: Crystal Seas Kayaking.
Few of the available activities in the islands can match the experience of sea kayaking along the meandering coastlines of the San Juan Islands. Hiking has the fresh air and mountain views, whale watching has the whales and the water, bicycling has the scenery and fitness but sea kayaking really does have it all. Warm weather, calm water, ever changing scenery, birdlife, sea life, and so much more. The islands welcome you to paddle into the sunshine and among the bald eagles, otters, seals, and whales... it makes for a fulfilling daily outing or even a romantic evening.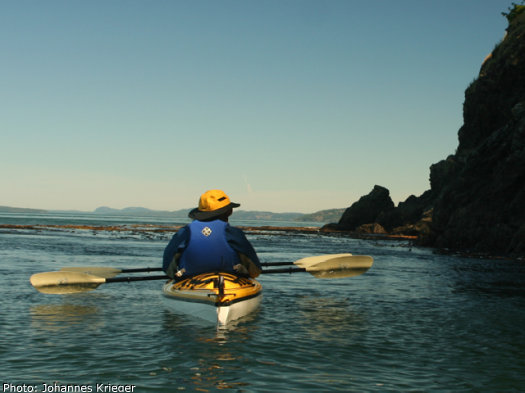 There is much to see on the rocks and just underwater... just keep paddling to change the view! Photo: Crystal Seas Kayaking.
Sea kayaking is safe and easy for people of all fitness levels and nearly all ages.
Sea kayaking tours depart from accessible places such as Friday Harbor, Eastsound Village, Lopez Village, Snug Harbor, or Roche Harbor. No matter where you depart from you will soon be on the water and observing the local beauty and abundant wildlife fostered by the unique geology and climate of the San Juan Islands.
Read more about sea kayaking tours on San Juan Island or sea kayaking tours on Orcas Island.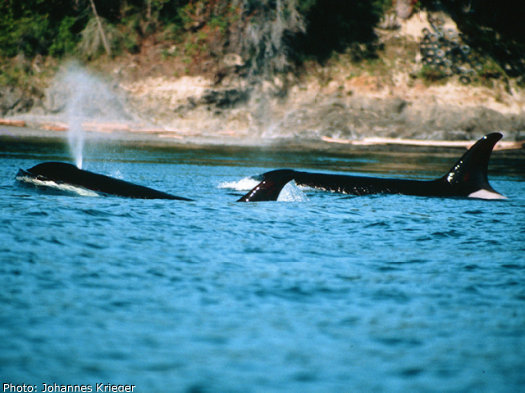 Yes orca whales are mammals just like us, these two here are surfacing for a big breath of air before diving back down in search of salmon. Photo: Crystal Seas Kayaking.
Bringing your own kayaks?
Kayak owners can purchase a walk on ticket from the Anacortes ferry line and roll your kayak on to the ferry's lower car deck for storage. Once you arrive on your island of choice you will find a kayak launch point not far from the ferry landing.
Having charts, kayaking experience, and the suggested books below are recommended to ensure you have a safe trip. As with most things please exercise common sense and be prepared. Always respect the ocean and local conditions.
There are several campgrounds accessible from the water such as the campgrounds on the Cascadia Marine Trail where you can kayak in to the beach and set up camp conveniently nearby.
Staying in a vacation rental, hotel, or bed and breakfast located on the water with a safe launch spot is another option if you are not into camping.
Recommended books about kayaking in the islands: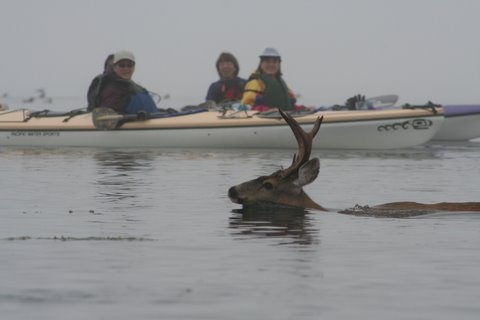 A sea kayak tour encounters a swimming buck off of Orcas Island. Photo courtesy of Spring Bay Inn.
Visit the following link to learn more about sea kayaking tours and adventures in the San Juan Islands: Kayaking on Orcas Island or kayaking on San Juan Island.
Background photo courtesy of Crystal Seas Kayaking.