Orcas Island has over 125 miles of saltwater coastline . Explore it in a sea kayak!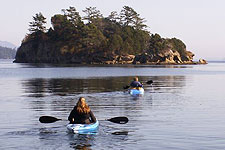 Photo: Outer Island Expeditions
Kayaking with your friends, family, or coworkers on Orcas Island can be done with a sea kayaking tour company or by bringing your own kayak on the ferry and launching somewhere on Orcas Island. One could also kayak up from the Puget Sound along the Cascadia Marine Trail and land and camp at many of the sites throughout the islands or Orcas Island.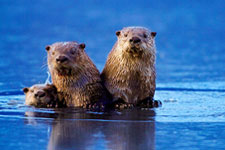 A family of otters. Photo: Outer Island Expeditions.
If you don't have your own kayak and would just like to go nature watching, get outdoors, see whales, take some pictures, and get some exercise then a guided kayak tour is what you're looking for. There are three different outfits offering guided kayak tours plus a couple other companies that will rent you kayaks by the hour or day. Kayaking with a guide is safe, educational, and does not require any previous experience or above average fitness levels. The shortest tour you can find is about an hour and other tours are up to three hours.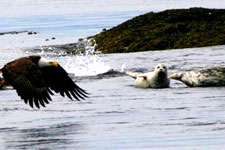 A Bald Eagle's wings nearly touching the water as he flies past harbor seals.
Photo: Outer Island Expeditions.
Overnight and multi-day tours to nearby islands and state parks are available for the more adventurous types. The adventurous types might also be interested in taking a sea kayaking instructional course from Body Boat Blade International. 360-376-5388. Their courses are available year-round and ranging in length from short hourly courses to five day kayak camping trips. They also offer equipment and boat rental to experienced paddlers.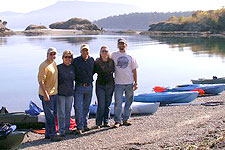 Photo: Outer Island Expeditions.
Orcas Outdoors ( 360-376-4611 ) is a kayaking tour company at the ferry landing on Orcas Island with short one-hour trips for just $30 per person and multi-day trips starting at $550. If you are traveling to Orcas Island in the summer months when the ferry lines are longer it is a good idea to get your car in line early. Why not make use of this extra time and go for an hour long kayak tour?
Shearwater Kayaking ( 360-376-4699 ) is the oldest and most established sea kayaking outfitter on Orcas Island. Kayaking tours meet and launch from Deer Harbor Marina, Rosario Resort, Doe Bay Resort, and West Beach Resort.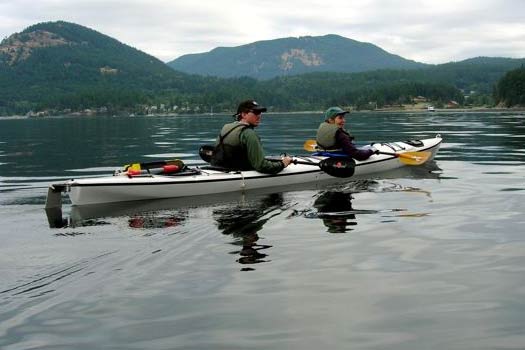 Sea kayakers explore Orcas Island. Photo: Spring Bay Inn.
Outer Island Expeditions ( 360-376-3711 ) offers canoe and kayak rentals without guides. Single kayaks from about $50 per day and double kayaks from $75 per day. The canoes fit three people and are available from $75 per day. The kayaks and canoes can be delivered to any location in the San Juan Islands or the Puget Sound. Delivery charges apply. The canoes and kayaks can also be delivered up to Moran State Park where there is Cascade Lake and Mountain Lake and lots of fish to catch.
The Cabin on Spring Bay (360-376-5531) has two hour tours departing at 8:30 a.m. in the morning daily for $30 per person. Evening tours start at 4 p.m. Exclusive and specialty tours available upon request.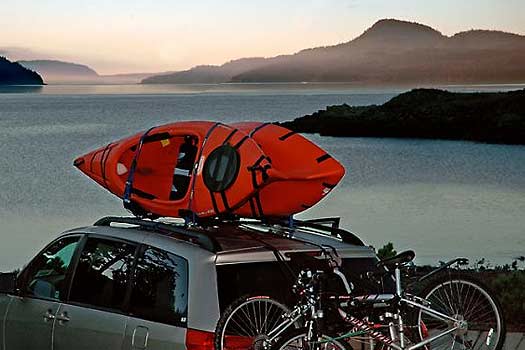 Well-equipped visitors to Orcas Island overlook Eastsound. Photo: Outlook Inn.
Rowboats, single kayaks, double kayaks and triple kayaks can also be rented by the hour or by the day from Lieber Haven Resort and Marina. Located in Olga. 360-376-2472
Kayaks and kayaking gear, wildlife gifts, outdoor wear, and T-shirts are available from Shearwater Kayaking's retail shop in Eastsound Village.
Please note that most of the kayaking tour companies only operate during the summer months. Make sure to bring along your sunglasses, hat, sunscreen, and wear layered clothing. While it is not uncommon to see orca whales while on a kayak tour there is no company that can guarantee it. If you just want to see the whales your best bet is to select a reputable whale watching tour outfitter.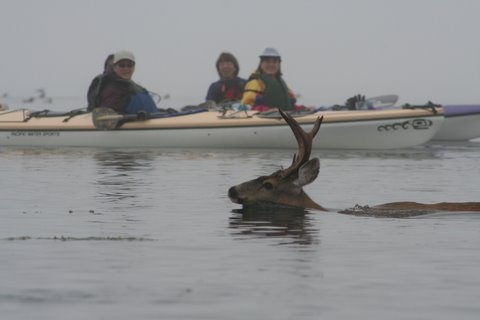 Kayakers encounter a swimming buck off of Orcas Island. Photo: Spring Bay Inn.
Recommended books about kayaking in the islands: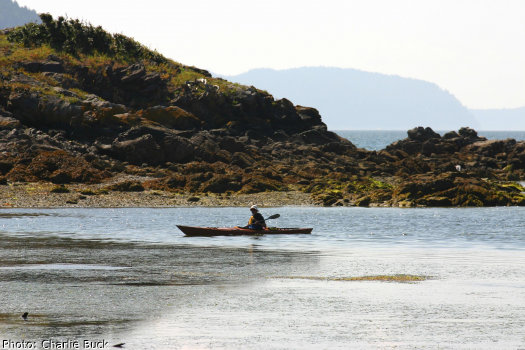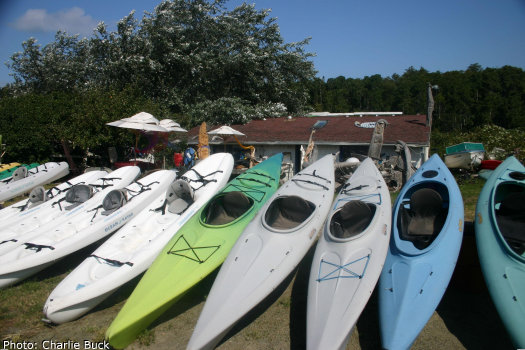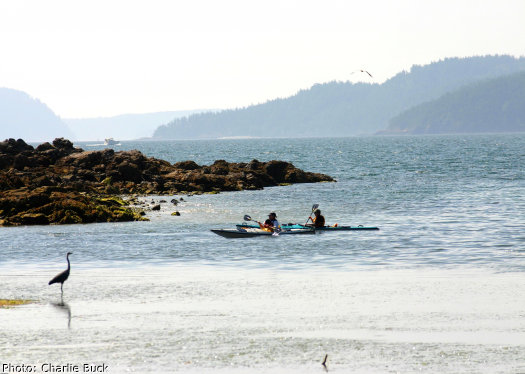 Here is a full list of sea kayaking tour companies in the San Juan Islands.