Stop at Cascade Lake for a swim, hike, paddle, fish, picnic, or camp.
Welcome to Cascade Lake.
No visit to Moran State Park is really complete without a stop at this lake. Great for just stopping by for a swim or a multi night campout. Here are some ideas for what to do at the lake: Pick up some sandwiches in Eastsound and have a picnic on Cascade, Mountain, or one of the Twin Lakes. Take the kids for a swim that is sure to burn off their energy and get them to bed early. Take a romantic hike around the Cascade Lake Loop. Go for a dangerous cliff jump from the rocks. Sun tan yourself on the mini beach. Hold your function at the Environmental Learning Center. Hike from the lake to Cascade Falls. Catch your limit of rainbow trout. Make s'mores from your lakeside campsite.
Fishing:
The fishing season starts on April 30th and fishing licenses ( about $8 ) can be purchased in Eastsound Village from Eastsound Sporting Goods. Cascade Lake is stocked yearly with rainbows, cutthroat, and kokanee trout. Cascade Lake as well as Mountain Lake and Twin Lakes ( Both just up the road from Cascade ) make for a decent day of fishing. Pick up a watercraft launching permit for $7 and launch your boat. No combustion engines are allowed on the lakes. More info on fishing on Orcas Island. More info on fishing on San Juan Island.
Hike around Cascade Loop:
The 2.7 mile hike around Cascade Lake is an easy walk with little elevation gain. The trail sticks next to the water the majority of the hike. This hike makes for a great after dinner activity during the summer months when it doesn't get dark until 10pm. More hikes in the San Juan Islands
Paddle boating:
Paddle boating is about $15 an hour and much easier on the legs than some expect. The boats seat two people and are best described as little boats with bicycle peddles that power the propellers. Paddle over to the smaller part of the lake where there are less if any people for a very relaxing and peaceful experience. Canoes and kayaks can be rented and delivered to the lake by Outer Island Expeditions; see our page on kayaking tours on Orcas Island for more info.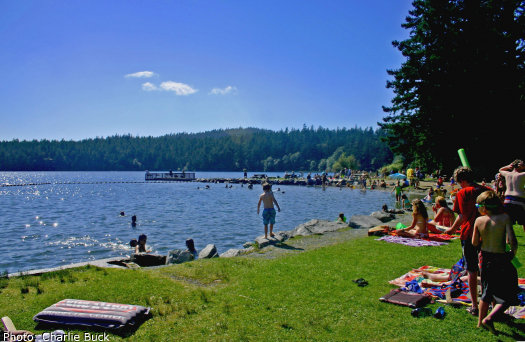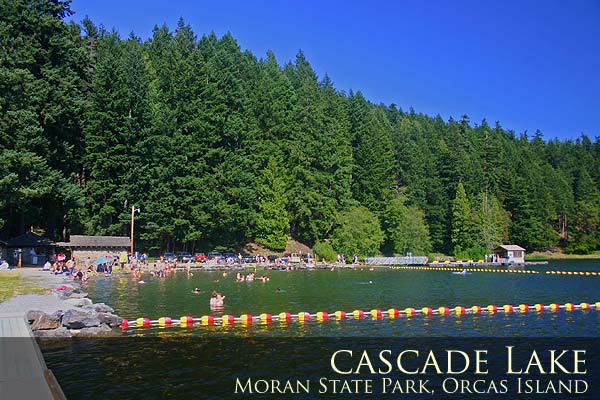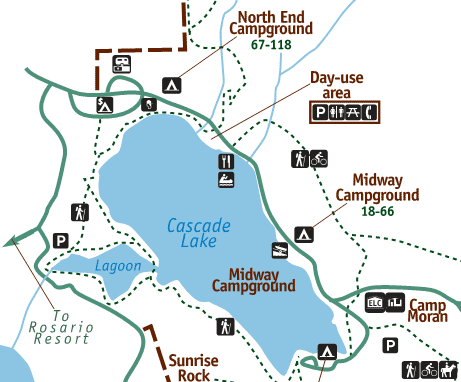 Cascade Lake Camping:
There are over 100 campsites available inside of Moran State Park. Please see our Moran State Park page for more info on camping at Cascade Lake.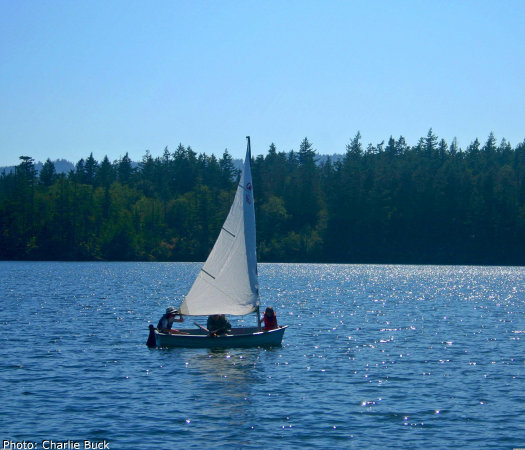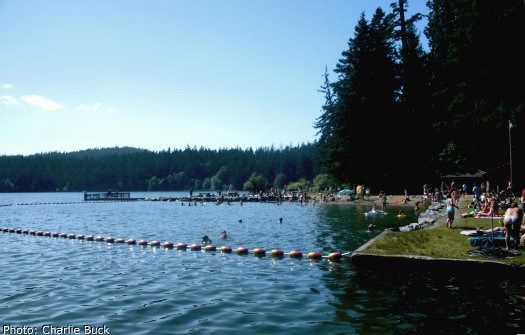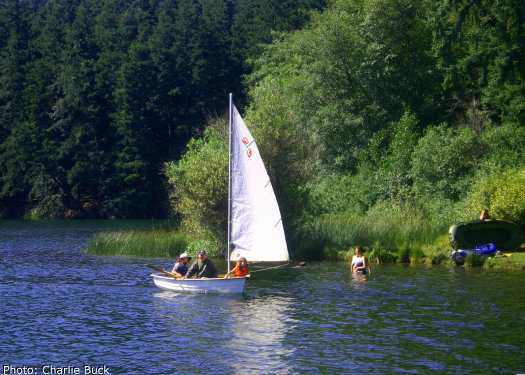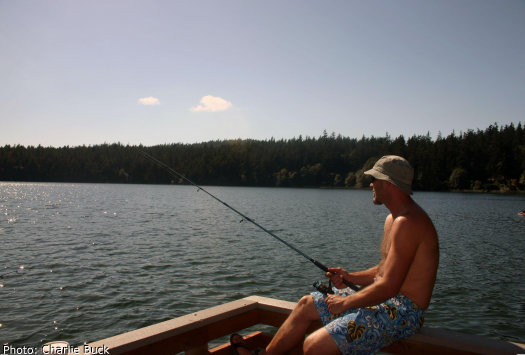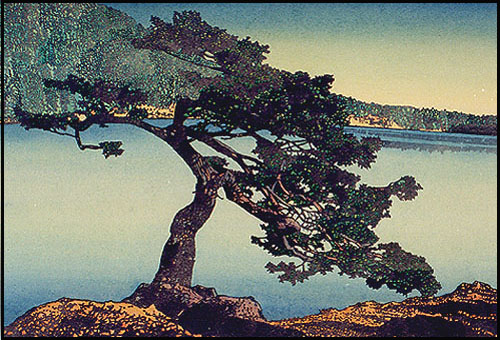 Cascade Lake, by Orcas Island artist James Hardman
Directions to Cascade Lake and Moran State Park: Starting at the Orcas Island ferry terminal follow Orcas Road for 9 miles into the town of Eastsound. Continue driving through town and after approximately 1 more mile taker right onto Olga road. The entrance to Moran State Park will be 3 miles ahead.
Moran State Park Map:
Map of Moran State Park
Interactive Moran State Park Map
Double click to zoom in, use menu to pan and zoom out.
You can also download this as a printable PDF file.
Accommodations Near Cascade Lake:
Browse all accommodations available on Orcas Island via our Orcas Island Lodging Map.
Related book recommendations:
Browse more...
Parks & Recreational Areas
Lakes and Beaches
Historical Places
Museums & Gardens
View Points
Romantic Places
Places for Young Adults & Children
Entertainment Venues
Towns on Orcas Island