home > news
Cascadia Marine Trail
The Cascadia Marine Trail is a network of campsites, access points, accommodations, rest stops, and other points of interests stretching from Olympia to Canada. There are over 50 campsites along the trail and no motor vehicles are allowed. Only human and wind powered beatable craft are allowed. See our page about sea kayaking in the San Juan Islands.
The goal of the Cascadia Marine Trail is to provide camping areas every five to eight miles for nonmotorized boaters that are traveling through the waters of the Puget Sound. It is estimated that the Puget Sound has over 1800 miles of shoreline and the Cascadia Marine Trail will only be considered complete when there are between 225 and 460 campsites.
To qualify as a Marine Trail marine park the following standards must be met: Small beach or landing area, stable access to plans from the high tide line, a designated campsite near the beach suitable for up to 16 people that includes picnic tables and camping stoves, toilet facilities nearby, a spot above the high tide line to secure boats, money collection stations, and water if available. Visit the official website of the Cascadia Marine Trail.
Here is a complete list of the Cascadia Marine Trail campsites in the San Juan Islands.
Blind Island State Park, Griffin Bay, James Island State Park, Jones Island State Park, Obstruction Pass, Odlin County Park, Point Doughty, Posey Island State Park, San Juan County Park, Shaw County Park, Spencer Spit State Park, Stuart Island State Park.
The following photos are courtesy of Lars Mohr.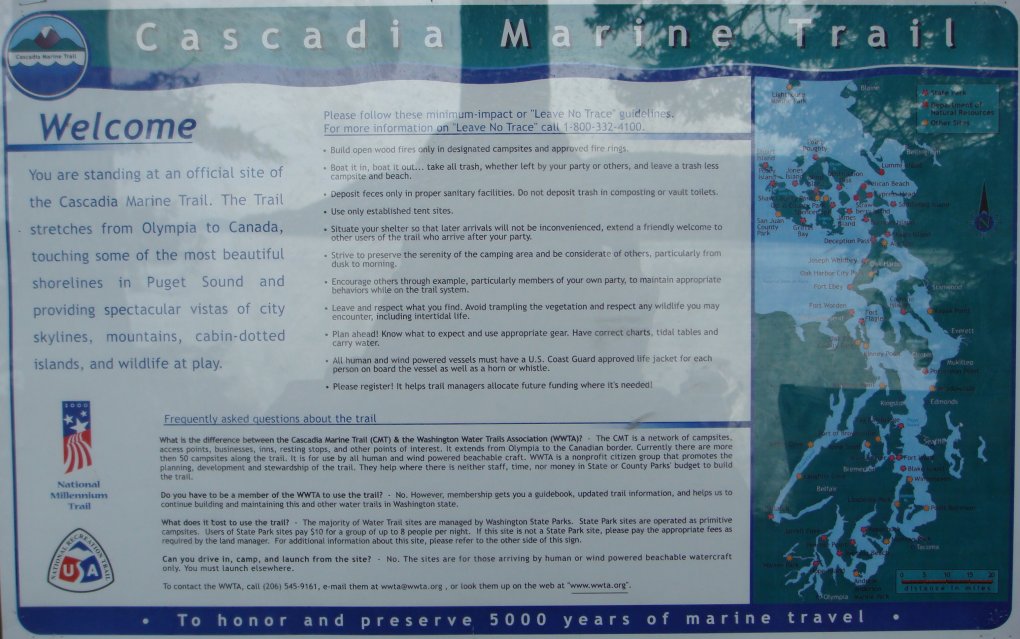 Browse more...
Lopez Island Activities
Lopez Island Places of Interest
Lopez Island General Info
Orcas Island Activities
Orcas Island Places of Interest
Orcas Island General Info
San Juan Island Activities
San Juan Island Places of Interest
San Juan Island General Info
Accommodations
List Your Business on TheSanJuans.com