home > lopez island places of interest > parks & recreational areas on lopez island
Lopez Island's Spencer Spit State Park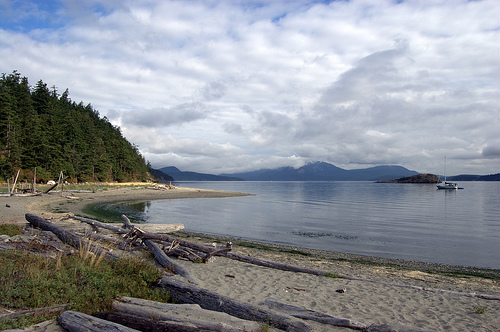 Spencer Spit State Park is another must-see spot in the San Juan Islands. It is located on the island of Lopez which is the first stop when you are taking the ferry from Anacortes. The park is approximately 4 miles from the ferry landing ( see the driving directions below ) and is a popular spot for hikers, boaters, and bikers to pitch a tent. Spencer spit State Park is also part of the Cascadia Marine Trail which is a network of over 50 campsites throughout the Puget Sound.
Native American tribes used to stop on the spit while migrating up and down the coast to crab, clam, and fish. This Native American activity continued until around 1946... since then it has become popular among "non-Native Americans." The more things change the more they stay the same!
Spencer spit was formed over a long period of time by the elements ( wind, waves, and tide ). At the moment it has a lagoon and geologists say this lagoon could eventually fill up with sediments ( geological term: mineral or organic matter deposited by water, air, or ice ) and cease to be a lagoon altogether.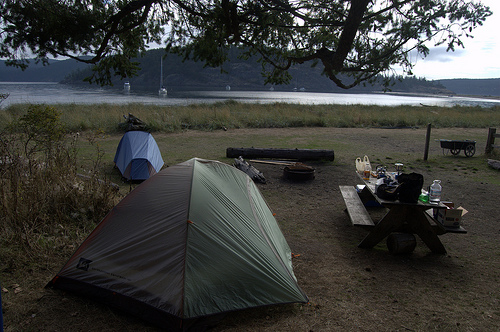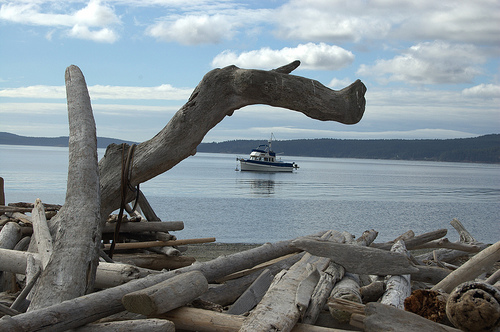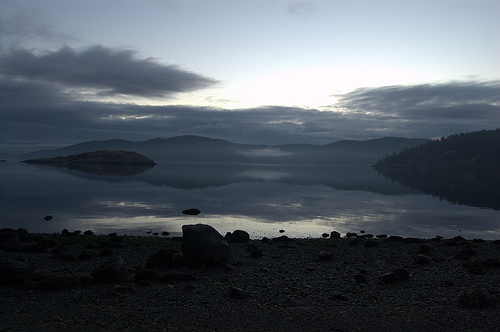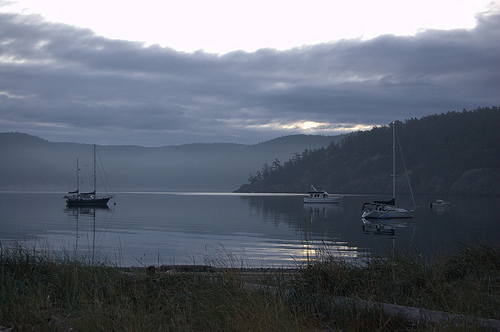 As of 2009 there are no "interpretive opportunities" at the park... however there is a replica of the original log cabin built by the Spencer family in the early 1900s at the end of the spit. The original cabin was replaced by the replica in 1978. As in the original cabin, driftwood logs and material for handsplit shakes were taken from the beach. The same design and notching techniques were used to rebuild the cabin.
For up-to-date pricing and camping details please visit the State Park website here: http://www.parks.wa.gov/
Spencer spit has 37 tent spaces, one dump station, and two restrooms, no showers or hookups are available. Most sites are spacious and private.
This park belongs to our top 10 places to have a picnic in the San Juan Islands. There are 15 unsheltered picnic tables and sixth sheltered tables, two kitchen shelters without electricity, a barbecue grill and a fire pit. Freshwater available nearby.
Boating information: 16 mooring buoys available.
Driving directions to Spencer spit: from the ferry landing go south for about 1 mile and turn left on Port Stanley Road. Drive approximately 2 miles and take a left onto Baker Road. Go to underline Spencer spit will be on your left after one half mile.
Other attractions on Lopez Island include: Odlin County Park, Lopez Village, Shark Reef Sanctuary, Otis Perkins County Park, historic sites, and the Lopez Island Historical Society Museum.
All images on this page courtesy of Jonathan. Thanks!
Browse more...
Parks & Recreational Areas on Lopez Island
Lakes and Beaches on Lopez Island
Historical Places on Lopez Island
Museums & Gardens on Lopez Island
View Points on Lopez Island
Romantic Places on Lopez Island
Places for Young Adults & Children on Lopez Island
Entertainment Venues on Lopez Island
Towns on Lopez Island