San Juan County Park is located on Smallpox Bay about 10 miles from Friday Harbor on the West Coast of San Juan Island. All campsites are primitive dry campsites. They do have a few larger primitive dry campsites where you could park and RV up to 25 feet in length. Spectacular west facing views, a gravel beach, a boat launch, and proximity to nearby attractions such as Lime Kiln State Park, Snug Harbor, and Roche Harbor make this Campground what it is. 20 campsites on 12 acres. No showers however they do have picnic tables, fire rings and firewood, water, a small picnic shelter and flushable toilets. Campers often are lucky enough to see the orca whales swim by. Reservations can be made online.
Read more about camping at San Juan County Park.
Directions to San Juan County Park: Scenic route: Follow Spring Street East through Friday Harbor and out-of-town. When you get off the ferry the main flow of traffic goes up Spring Street. Continue on Spring Street for about 1 mile from downtown and turn left on Douglas Road. Another mile or so down the road the road makes a sharp turn to the right and becomes Bailer Hill Road. Continue on this road up and over a big hill, along the west coast of San Juan Island and past Dead Man's Bay. Your next turn is a sharp right hand turn at the Lime Kiln State Park intersection. Continue on this road for another 2 miles and San Juan County Park will be on your left hand side. This is considered the scenic route and is two more miles ( twenty minutes ) than the alternative route via Beaverton Valley Road. Express Route: From downtown Friday Harbor on Spring Street follow 2nd St ( opposite of the movie theater ) up past the community theater and the Friday Harbor high school. 2Nd St. turns into Guard street which eventually comes Beaverton Valley Road. Continue on Beaverton Valley Road for several miles. After coming down a very large hill ( Cady Mountain ) start looking out for Mitchell Bay Road on your left. Take a left onto Mitchell Bay Road and follow it through a dogleg right and a dogleg left and take a left onto Westside Road. Follow Westside Road through a dogleg left and a dogleg right and San Juan County Park will be on your right. If you reach Whale Watch Park you have gone too far.
Grocery shopping: is best done in Friday Harbor at King's market or the Marketplace. Roche Harbor also has a small grocery store and Snug Harbor also sells basic camping supplies. More on Friday Harbor grocery stores.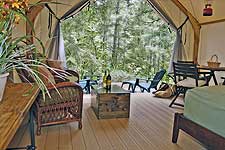 Ditch the Sleeping Bag and Go Glamorous Camping on San Juan Island. Photo: Lakedale Resort.
What's Glamping? It is worthwhile to mention that San Juan Island also has luxury campgrounds. Glamorous camping now known as "Glamping" combines the comforts of a hotel room in the outdoor feel of camping. It's basically a hotel room underneath a large canvas tent with some luxuries removed. More on Glamping in the San Juan Islands.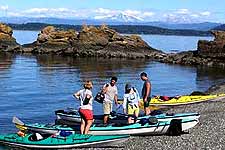 A sea kayaking tour beaches their kayaks for lunch on the west side of San Juan Island. Photo: Crystal Seas Kayaking.
Kayaking & Camping: Another option for camping in the San Juan Islands is to go on a multi-day sea kayaking tour. These tours take you from one picturesque waterfront campsite to another at a leisurely pace in stable kayaks. Benefits: spectacular scenery, in-your-face wildlife, ecologically friendly, no experience necessary. Cons: More expensive than camping at a campground, you must exert physical energy, all your friends will be jealous when you show them your trip photos.
Our other camping pages:
Tags: campgrounds on San Juan Island, camping on San Juan Island, Friday Harbor campgrounds, Friday Harbor camping, waterfront camping, places to camp, free camping, group camping,
Browse more...
Parks & Recreational Areas
Lakes and Beaches
Historical Places
Museums & Gardens
View Points
Romantic Places
Places for Young Adults & Children
Entertainment Venues
Towns on San Juan Island
Background photo courtesy of Lakedale Resort.