home > orcas island activities > historical activities

Great Places to Picnic in the San Juan Islands
A list of the best places to picnic on Orcas Island, Lopez Island, and San Juan Island.
The Olga History Tour
An hour-long walking tour through the historic village of
Olga
. Starting and ending at the Olga Café and Gallery participants learn about the geology of Orcas Island, Native American history on the island, and the first European settlers in the village. Held every Wednesday at 2:30 p.m. $5 admission.

Interesting Facts about the San Juan Islands
Several Interesting Facts about the San Juan Islands that even locals would be surprised to know.
Explore Moran State Park
Moran State Park is located on Orcas Island and offers camping, freshwater swimming, old-growth Forest hiking, trout fishing, wildlife watching, scenic driving, challenging biking, and much more.
Hike bike or drive to the summit of Mt. Constitution
Make sure you have extra space available on your digital camera for some photos of the spectacular view from atop of Mount Constitution. If your time on Orcas Island is limited you might want to drive to the top but if you have more time I suggest
riding your bike
or taking a hike. Make sure you choose a clear day to go up there otherwise you will be in the middle of the clouds. The drive up through
Moran State Park
is half the fun.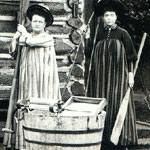 Local museum showcases pioneer life and an Ice Age Diorama
This interview with Museum curator Mickey Ryan highlights the exhibits Of the Orcas Island Historical Museum. Highlights include walk through cabins and post office, listening to the oral history project, and discovering the Ice Age fossils of an Ancient Bison, a Short Faced Bear, and the magnificent Giant Clawed Sloth.

Great Resource....The Geology of the San Juan Islands
A publication from the University of Washington all about the geology of the San Juan Islands. Very informative.
Attend the Annual Day Fair at the Orcas Island Historical Museum
The Orcas Island Historical Museum is unique in being the only object-based, interpretive heritage facility for the island, with a permanent collection comprised of approximately 6000 objects, paper documents and photographs.
Tour Robert Moran's Rosario Museum
Visit Orcas Island's historic Rosario Resort Museum.
Visit the historic observation tower on Mt. Constitution
This stone observation tower was built by the Civilian Conservation Corps in 1936.

Ask a question about visiting the San Juan Islands
A place where you can easily post your questions about visiting the San Juan Islands.