home > san juan island activities > youth and childrens activities

Great Places to Picnic in the San Juan Islands
A list of the best places to picnic on Orcas Island, Lopez Island, and San Juan Island.

View sunsets and whales from Lime Kiln State park
Lime Kiln Point is a 36-acre day-use park set on the west side of San Juan Island. The park is considered one of the best places in the world to view whales from a land-based facility.

Self guided nature tour of Jakle's Lagoon and Mount Finlayson
Make sure to print out this self-guided nature tour that takes you on a beautiful and educational hike through the prairie and forest. The trail is about 1 mile in length and will take approximately 1 hour to complete.

Explore the tide pools at Dead Man's Cove
Don't let the grisly history of Dead Man's Bay prevent you from enjoying this treasure of San Juan Island's
West side
.

Exercise the kids at South Beach
South Beach is a 2 miles long stretch of pebble beach where you can still get a good chunk of beach all to yourself, even in the height of summer.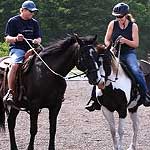 Learn to ride horseback in the San Juan Islands
With just a little bit of instruction and a little bit more courage you and your family can be riding through forests and pastures on horseback.
Build a driftwood fort on Jackson's Beach
Packs and snacks and some warmer clothes we are going to Jackson's Beach! The kids will love making forts out of the unlimited driftwood found here...

Roche Harbor Walking Tour
Pick up a fold-out map from the Front Desk of Hotel de Haro while you are here to guide you around the historical village. It will explain a lot about its rich history during the "Limekiln Years". We have many pictures on display in the hotel lobby that were taken by a photographer hired by Mr. John S. McMillin, owner of
Roche Harbor
Lime & Cement Company in the late 1800's.
Take a tour of Friday Harbor's Whale Museum
Led by Museum educators, tours provide a unique experience that enhances your group's understanding and appreciation of whales and the marine habitat.
Swimming and Camping at Lakedale Resort
Lakedale Resort offers activities like fishing, camping, and swimming for young adults and children on San Juan Island.

Ask a question about visiting the San Juan Islands
A place where you can easily post your questions about visiting the San Juan Islands.