home > san juan island activities > recreational activities

Fish the San Juans!
Local fishing expert gives you the details on how to fish the San Juan Islands.

Self guided fishing the San Juan Islands
Local fishing expert gives you the details on how to fish the San Juan Islands.

Visit San Juan Island's English Camp ( aka British Camp )
Highlights of English Camp include a ranger guided walking tour, historical reenactments, nature programs and orientations, a trail leading up Mount Young, photographic opportunities of Garrison Bay and the historic structures left over from the Royal British Marines occupation during the Pig War, and much more.

Great Places to Picnic in the San Juan Islands
A list of the best places to picnic on Orcas Island, Lopez Island, and San Juan Island.

Camping On San Juan Island
Detailed San Juan Island camping info, campgrounds, photos, maps, and more.

Birding in the San Juan Islands
The San Juan Islands are a fantastic place to watch birds. Please enjoy this interview with local bird watching enthusiast Carl Silvernail of the Otters Pond bed and breakfast.

View sunsets and whales from Lime Kiln State park
Lime Kiln Point is a 36-acre day-use park set on the west side of San Juan Island. The park is considered one of the best places in the world to view whales from a land-based facility.

Hike or paddle into the Cascadia Marine Trail
A salt water trail that stretches over 140 miles, from the Canadian border on the north to southernmost Puget Sound near Olympia.

Self guided nature tour of Jakle's Lagoon and Mount Finlayson
Make sure to print out this self-guided nature tour that takes you on a beautiful and educational hike through the prairie and forest. The trail is about 1 mile in length and will take approximately 1 hour to complete.

Explore the tide pools at Dead Man's Cove
Don't let the grisly history of Dead Man's Bay prevent you from enjoying this treasure of San Juan Island's
West side
.

Exercise the kids at South Beach
South Beach is a 2 miles long stretch of pebble beach where you can still get a good chunk of beach all to yourself, even in the height of summer.

Visit the Cattle Point Lighthouse
Cattle Point is the south eastern tip of San Juan Island... from here several islanders with fuel-efficient vehicles enjoy views of Lopez Island, and the Olympic Mountains across the straits of Juan de Fuca. Many trails, viewpoints, beaches, and scenic photography opportunities await your exploration.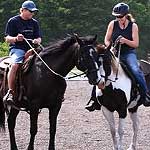 Learn to ride horseback in the San Juan Islands
With just a little bit of instruction and a little bit more courage you and your significant other could be riding through forests and pastures on horseback.

Hike Mount Young
Mount Young, with its expansive marine views over the northwest side of San Juan Island easily makes our top 10 viewpoints in the San Juan Islands list. It almost made our top 10 hikes in the San Juan Islands list but the hike is only 10 minutes long! Bring along your camera for the views!

West Side Exlorations
Many heart warming experiences await you on the Westside of San Juan Island.

Roche Harbor Walking Tour
Pick up a fold-out map from the Front Desk of Hotel de Haro while you are here to guide you around the historical village. It will explain a lot about its rich history during the "Limekiln Years". We have many pictures on display in the hotel lobby that were taken by a photographer hired by Mr. John S. McMillin, owner of
Roche Harbor
Lime & Cement Company in the late 1800's.

Scuba diving the San Juan Islands
Browse businesses and services relating to scuba diving in the San Juan Islands.

Yacht Charters in the San Juan Islands
Chartering a yacht is one of life's greatest pleasures. As independent charter specialists, our unbiased advice is based on personal inspections. We recommend the perfect charter yachts and destinations for your objectives and preferences, from all options worldwide.

Take A Short Walk/Hike to the esoteric Roche Harbor Mausoleum
The Roche Harbor mausoleum is a memorial to the dreams and aspirations of John S. McMillan who was a Freemason and Templar. This is a historical, esoteric, and picturesque site not to be missed. Approximately 1 km from Roche are Marina.
Fishing On San Juan Island
Salt water and fresh water fishing general info, tour outfitters, photos, and more.

Kayaking on San Juan Island
A kayakers' paradise, San Juan Island is nestled between the snow capped Olympic Mountain Range and the Cascade Mountain Range. Witness unbelievable wildlife May through September.

Bicycling on San Juan Island
Bicycling on San Juan Island; Get general bicycling information, tour outfitters, and more.

Golfing on San Juan Island
Full service 9 hole golf course. Includes driving range, tennis courts, practice green bunker, Bar and Restaurant with Banquet facilities.

Workshops and classes in the San Juan Islands
Enroll in a class or workshop and learn about arts, ceramic sculpture, drawing, pastels, glass sculpture, glass blowing ,botanical painting, watercolors, basic bronze foundry art casting, bead making, lampwork , jewelry making, general metalsmithing, T'ai Chi Ch'uan classes, or a Marine naturalists training program.

Hiking On San Juan Island
A guide to hiking on San Juan Island. Features recommended hiking on the island, trail info, photos and more.

Whale Watching in the San Juan Islands
The San Juan Islands are home to numerous species of whales, a whale museum, the Center for whale research, and several whale watching tour companies.

Ask a question about visiting the San Juan Islands
A place where you can easily post your questions about visiting the San Juan Islands.