Top 10 Things to do in the San Juan Islands, Orcas Island, Lopez Island, Friday Harbor and Anacortes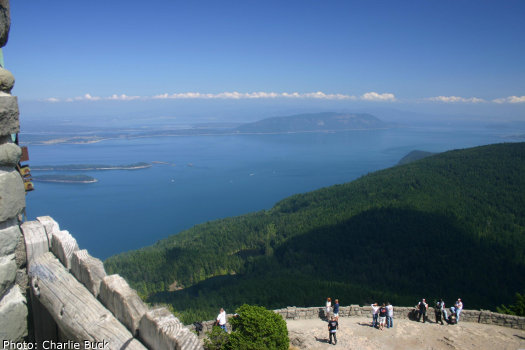 1: Take the Washington State Ferry from Anacortes into the San Juan Islands. My first memory of the San Juan Islands was the first ferry ride to Friday Harbor. You can stay in your car on the lower car deck, have clam chowder up in the galley on the top floor, or watch the islands go by from the windy decks. Bring along your camera, a good book, a sketch pad, Extra quarters for the video games and vending machines, and a thermos full of coffee or tee. The ride to Lopez is about 45 minutes, Orcas 60 minutes, and Friday Harbor is about 90 minutes.
2: Exploring the parks! On Lopez Island visit Lopez Island's Otis Perkins County Park, Lopez Island's Shark Reef Sanctuary, Lopez Island Odlin State Park, and Lopez Island's Spencer Spit State Park. On Orcas Island visit Cascade Lake, Orcas Island's Moran State Park, Obstruction Pass State Park, and Turtleback Mountain. On San Juan Island visit Lime Kiln State park ... aka Whale Watch Park, San Juan County Park, American Camp, and San Juan Island's English Camp ( aka British Camp ). These are just the parks that are on islands accessible via the Washington State Ferry and there are many more islands to explore if you are exploring the islands via a yacht, airplane, or sea kayak. They say that at low tide there are over 400 islands!
3:Sea Kayak along the west side of San Juan Island.
4: Visit the Whale Museum in Friday Harbor and then go whale watching.
5: Bring your bicycle and go biking around the San Juan Islands.
6: Read our Top 10 places to go picnicking in the San Juan Islands list and then have a picnic!
7: Tour Robert Moran's Rosario Museum.
8: Visit the San Juan Island Historical Museum.
9: Bike the Tour De Lopez in the Spring.
10: Celebrate the 4th of July in the San Juan Islands.